About the exhibition
Since 2013, the Nature Champions initiative has partnered cross-party Members of the Scottish Parliament with threatened and iconic Scottish species and habitats. This exhibition, titled 'A Voice for Nature', highlights how past and present MSPs have been working with local communities and conservation organisations through the Nature Champions initiative to be a voice for nature in the Scottish Parliament, raising awareness of everything from the smallest pond mud snail to the mighty blue whale.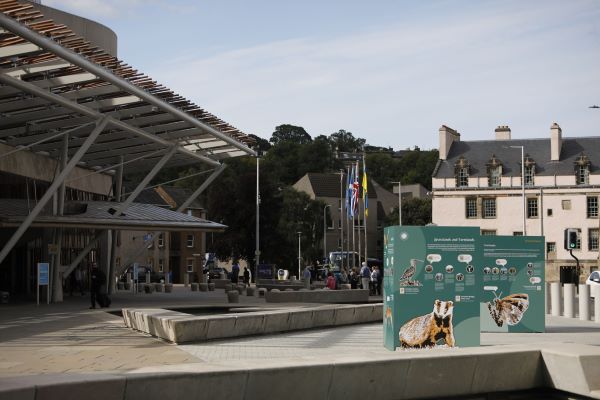 This exhibition also raises awareness of some of the extraordinary species and habitats that Scotland is home to, including those represented by MSPs in the Nature Champions initiative. Images and facts about Scottish species and habitats are displayed alongside Nature Champions case studies and QR codes within the displays link to short audio descriptions, using the voices of MSP Nature Champions to share information about species and habitats – thereby being a literal 'voice for nature' in the exhibition itself.

Through the exhibition, visitors can learn more about Scotland's natural heritage, partnership working in conservation and the work that Members of the Scottish Parliament are undertaking as Nature Champions to protect and restore threatened and iconic species and habitats.
This free public exhibition will be located inside the Public Hall of the Scottish Parliament building until Friday 22 September 2023.
Location
Inside the Public Hall of the Scottish Parliament building
Days and times
28 August to 22 September 2023
Price
Free