Summit 2023
Date: Saturday 25 November 2023 from 12 noon to 6pm
Location: The Scottish Parliament, Edinburgh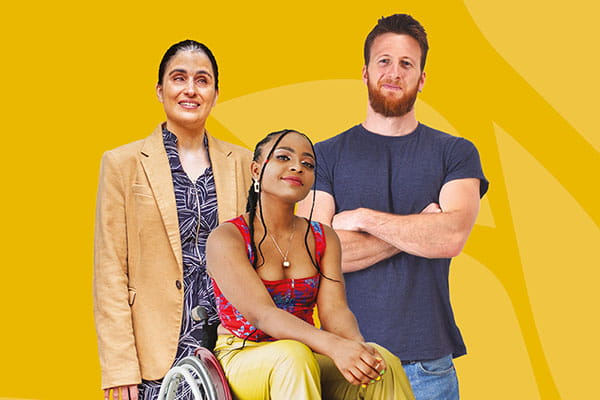 The Scottish Parliament will hold its first Summit to mark International Day of Persons with Disabilities on 25 November 2023.
It will be a day of celebration for all, including
keynote speeches on breaking down social barriers and the fight for equality and human rights
a cross-party panel discussion where our panellists will share their experiences as disabled persons
an opportunity for you to put your questions to the panel during a short question-and-answer session
The hybrid Summit will be hosted by Deputy Presiding Officer Annabelle Ewing MSP, on behalf of Jeremy Balfour MSP and Pam Duncan-Glancy MSP, the Convener and Deputy Convener of the Cross-Party Group on Disability.
Programme for attending online
Follow this link to attend online
Programme for in-person attendees
12pm: Delegate lunch in the Garden Lobby
2pm: Chamber event
4pm: Closing reception in Garden Lobby
6pm: Event ends
Presiding Officer Alison Johnstone and the Parliament's BSL Officer provide information on Summit 2023
The Summit will start with lunch in the Garden Lobby from 12pm to 1.45pm. Guests will then be escorted to the Debating Chamber for the hybrid session chaired by the Presiding Officer from 2pm to 4pm. The day of celebration will finish with a reception in the Garden Lobby from 4pm to 6pm.
All guests attending the Summit in person are asked to be at the Scottish Parliament by 11.45am at the latest.
---
Accessibility
If you need communication support to attend in-person, for example a British Sign Language (BSL) interpreter, electronic notetaker or palantypist, please let us know when registering your interest.
We will do everything we can to ensure that support is available but unfortunately we cannot guarantee it. There is a huge demand for these services in Scotland and not enough BSL interpreters or electronic notetakers to meet that demand.
Learn about the Scottish Parliament's accessibility features and services
Read the Scottish Parliament's accessibility statement
Contact details
We do hope you can join us for the Summit to mark International Day of Persons with Disabilities. If you have any questions about the Summit and how we can assist, please contact us by emailing [email protected] or telephone the Events and Exhibitions Team on 0131 348 6933 during office hours.
Data protection
We handle any personal information you give us in line with the Data Protection Act 2018 and UK GDPR. For information on how we will use your data please read the privacy notice for Summit 2023.
Please note it is our intention that the Summit will be broadcast live on Scottish Parliament TV with BSL. If you do wish to register your interest to attend in-person, please review our Broadcasting and Photography privacy notice.